The Transformative Learning Centre of OISE-UT presents the
<![if !vml]>
<![endif]>
<![if !vml]>
<![endif]>
<![if !vml]>

<![endif]>
2010-2011
University of Toronto
The TMA Film Series is a more-or-less monthly screening of unique martial arts movies that go deeper and wider than standard chop-socky action flicks. A followup to the acclaimed TMA workshop series of summer 2008, the film series is intended to provide a stimulating and entertaining environment to ponder and discuss transformative potentials for the martial arts. Whether you are practicing a particular system, contemplating taking up a practice, simply interested in the issues raised by (and within) the martial arts, or just looking for an interesting time, you are invited to come along.
All films are will be shown on Friday afternoons, 3-5pm, providing a great way to de-stress after the workweek and jump-start a re-creative weekend. We are open to suggestions for future films for the upcoming season.
OISE-UT, 252 Bloor St. W.
(directly above the St. George subway station)
FREE admission
[ Previous TMA Film Screenings [
Friday November 19, 2010
Dean's Board Room,
12th Floor, OISE-UT, 252 Bloor St. W.
(directly above the St. George subway station)
<![if !vml]><![endif]>

"This outlandish, bizarre film is funny enough to keep your attention diverted."

--Wesley Lovell, OscarGuy

"The slapstick is broad and the jokes are scattershot, but the satirical digs at the self-delusion directing much of American foreign policy are well aimed."

--Josh Larsen, LarsenOnFilm

"Like its intriguing title, this 'more of it is true than you would believe' satire about US intelligence, psychic spies, hippies and super soldiers is a trip to the wacky side."

--Louise Keller, Urban Cinefile

Everyone Invited to Participate in Discussion Afterwards
Loosely based on a book about the US military's attempt to employ psychic powers against enemies, The Men who Stare at Goats is a <![if !vml]>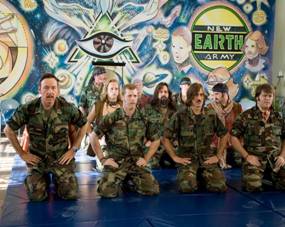 <![endif]>tour de force of parody—of the military, martial arts, New Agers, US foreign policy, and more.
In 1979 a secret unit was established by the most gifted minds within the US Army. Defying all known accepted military practice - and indeed, the laws of physics - they believed that a soldier could adopt the cloak of invisibility, pass cleanly through walls and, perhaps most chillingly, kill goats just by staring at them. Entrusted with defending America from all known adversaries, they were the First Earth Battalion. And they really weren't joking. What's more, they're back and fighting the War on Terror. 'The men who stare at goats' reveals extraordinary - and very nutty - national secrets at the core of George W Bush's War on Terror.

With first-hand access to the leading players in the story, Ronson traces the evolution of these bizarre activities over the past three decades, and sees how it is alive today within US Homeland Security and post-war Iraq. Why are they blasting Iraqi prisoners-of-war with the theme tune to Barney the Purple Dinosaur? Why have 100 de-bleated goats been secretly placed inside the Special Forces command centre at Fort Bragg, North Carolina? How was the US Military associated with the mysterious mass-suicide of a strange cult from San Diego? 'The men who stare at goats' answers these, and many more, questions. (JonRonson.com)
Film Website and Trailer
Behind the Scenes
<![if !vml]>

<![endif]>
TMA Articles & Links
Roxana Ng, "Embodied Learning and Qi Gong: Integrating the Body in Graduate Education," in
Within and Beyond Borders: Critical Multicultural Counselling in Practice, edited by Olga Oulanova, Isaac Stein, Aanchal Rai, Maya Hammer, Patricia A. Poulin, Centre for Diversity in Counselling and Psychotherapy, OISE-UT, 2009
Ann Phillips in Vitality magazine: "Classical Martial Arts: An Eastern Inspired Path to Wellness and Empowerment"
Lang Liu, A Very Brief History of Capoeira
Filhos de Bimba Toronto: Capoeira Regional with Professora Estrelinha (Lang Maria Liu)
Brian's Internal Martial Arts Webpage
<![if !vml]>

<![endif]>
See Previous TMA Film Screenings